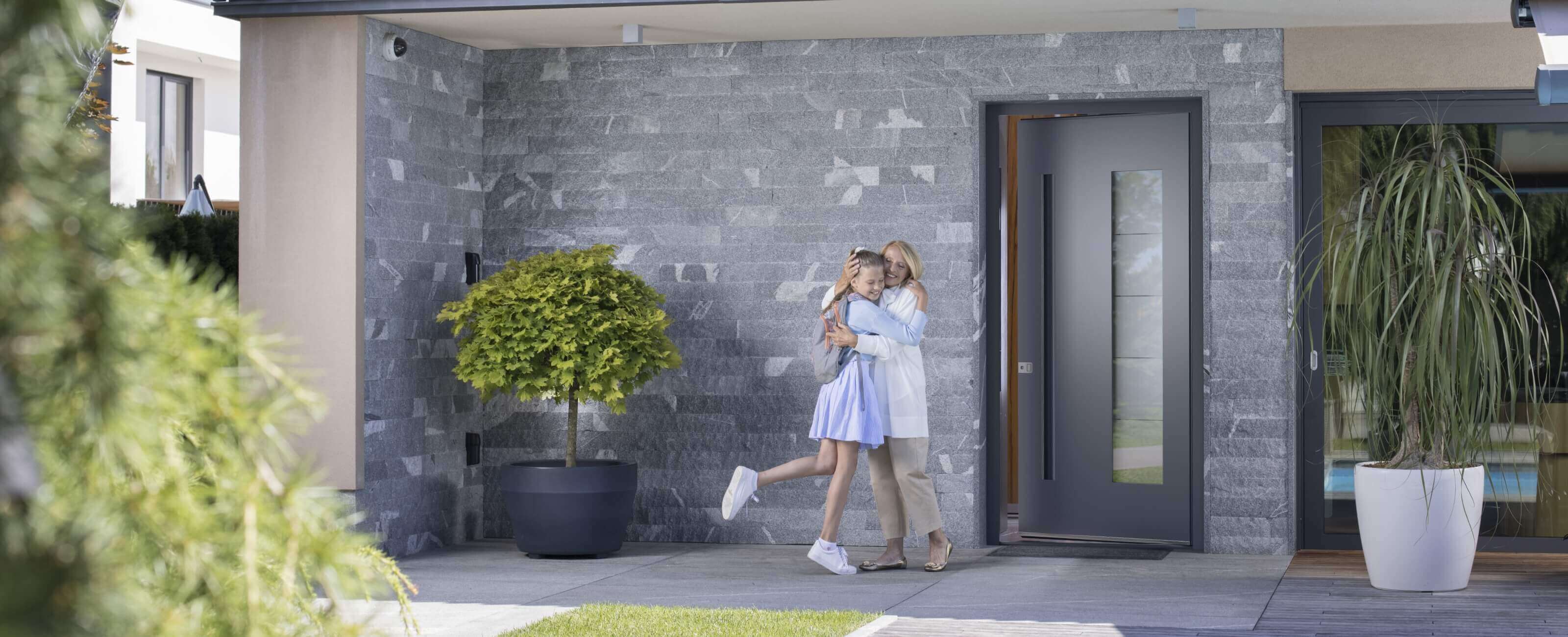 THE WONDERFUL WORLD OF ALUMINIUM FRONT DOORS
Aluminium front doors
Aluminium front doors represent the ideal balance between durability, energy efficiency and aesthetic perfection. Find the model that sparks joy in you every time you walk past it. Our handcrafted doors are loved worldwide thanks to their exceptional design and clever use of technology. Are you ready to take your pick?
DESIGN YOUR ALUMINIUM FRONT DOORS
The most versatile entrance
Aluminium is synonymous with modern, elegant and attractive. At the same time, it is an extremely high-quality, environmentally friendly and durable material that is particularly suitable for front doors.
These product designs are best suited to a modern house, but because of their great flexibility, they can certainly also be designed in a classic style.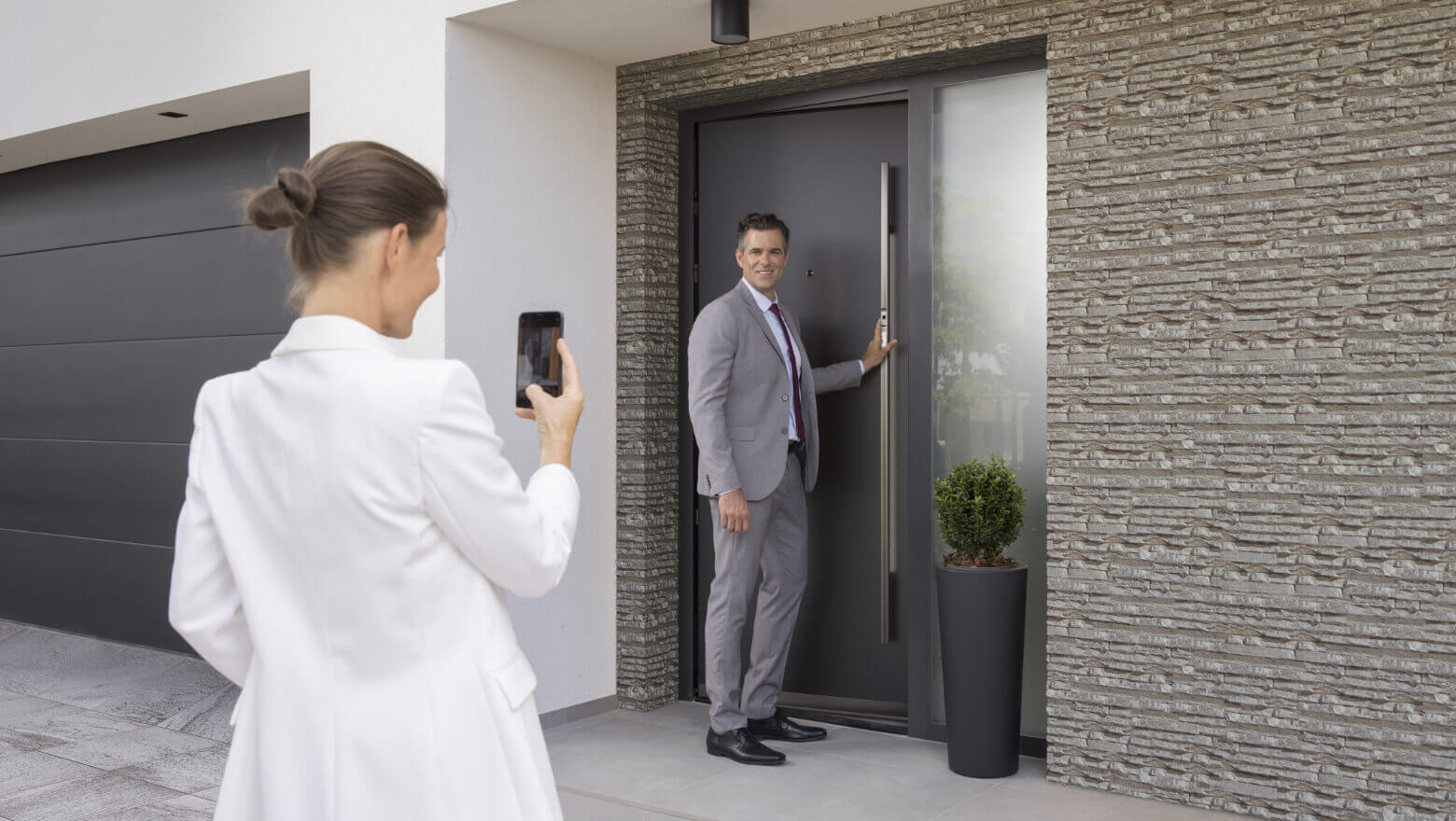 EXCEPTIONAL SOLIDITY

Aluminium is a very durable, robust and solid material that is characterised by a long service life.

HIGH RESISTANCE

It is an extremely durable material that can successfully withstand the effects of weather and large temperature fluctuations, making it suitable for any home.

SUPERIOR THERMAL INSULATION

Pirnar's entrance models are completely bespoke and can be fitted with high-quality insulation, best thermal performance and thermal efficiency with best U value, making them highly thermally energy-efficient.

VERSATILE USE

It enables the production of entrances in any dimension, even larger than average, as well as endless possibilities for design, surface treatment and the application of countless colour variations.

MAXIMUM SECURITY

The strength of the material and the exceptional protection against burglary characterise all range of aluminium models that protect your home from intruders.

EASY MAINTENANCE

Aluminium does not require much care and maintenance, a thorough cleaning with a mild, pH-neutral or alkaline cleaning agent is sufficient.

DURABILITY

It is an extremely environmentally friendly material as it can be endlessly and fully recycled without losing its quality in recycled products.
General advantages of aluminum entrance doors
The material aluminum has a natural stability and is therefore extremely resilient. The stable construction ensures your home excellent security and increases the protection of burglary for a safe home in which you always feel well protected and really well and at home.
Main benefits of aluminum doors
at a glance
Thanks to the high-quality external doors material with high door thickness and optional thermal insulation glazing, Pirnar aluminum front doors provide excellent thermal insulation and thus reduced heating costs.
excellent insulating properties
unique designs
excellent security
individually configurable
Choose between different types of glass for your
aluminum front doors with side panels
or skylight: clear glass, safety glass and ornamental glass. We have worked out the advantages of each type of glass for you in detail.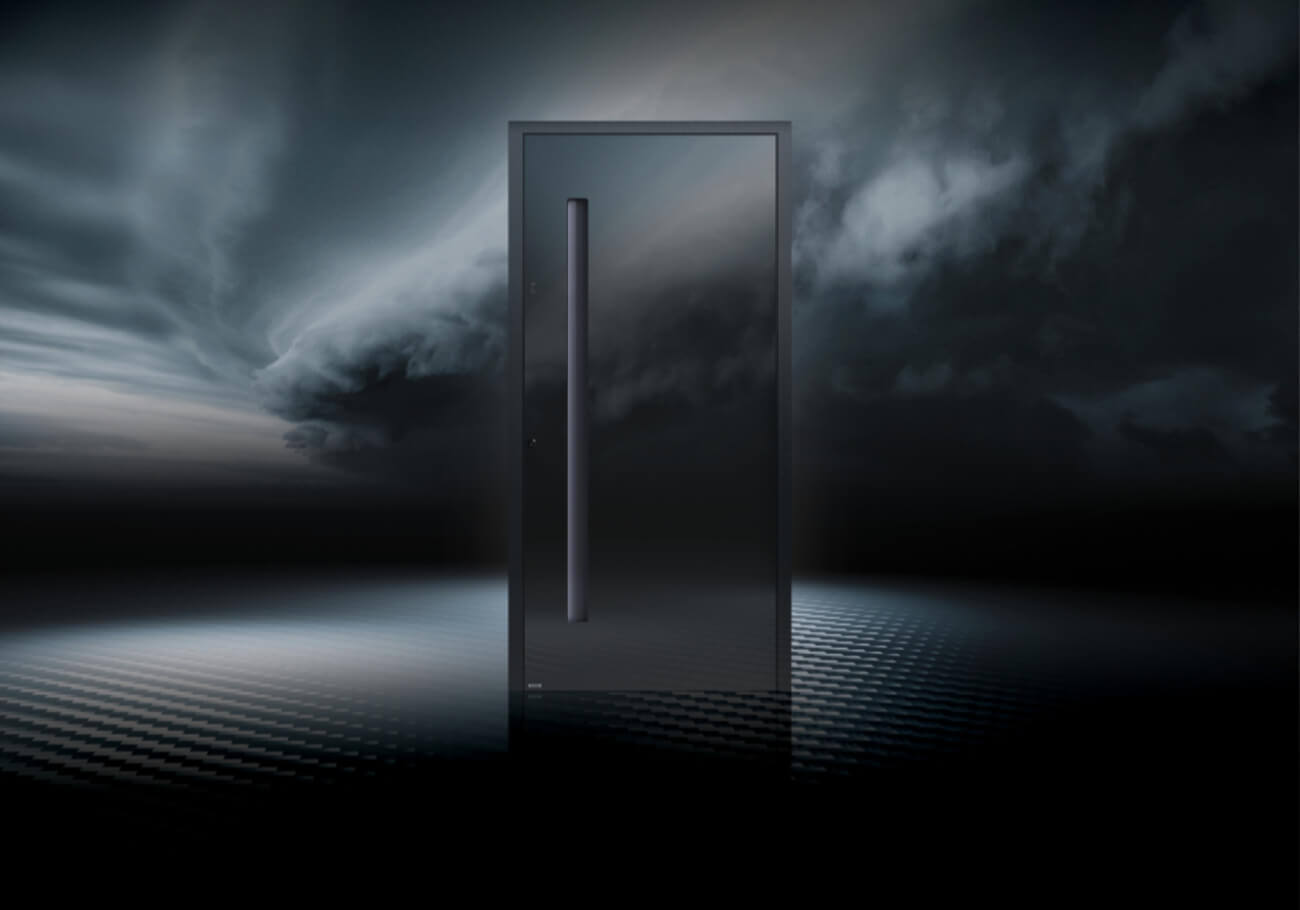 Choose individual door handles for your aluminum doors
Compared to other elements of aluminum door, the door handle usually receives little attention. But it is precisely the handle that we touch every day. It should therefore not only be attractively designed, but also have a good feel to it. All of our handles are handmade and each piece is unique. Choose between matt and polished elements as well as other fine details.
At Pirnar.in there are a variety of options for your door handle - from round and square door handles to slim handle bars, fully illuminated handles or handles embedded in the door leaf to the unusual, invisible OneTouch system that activates the door handle with your fingerprint.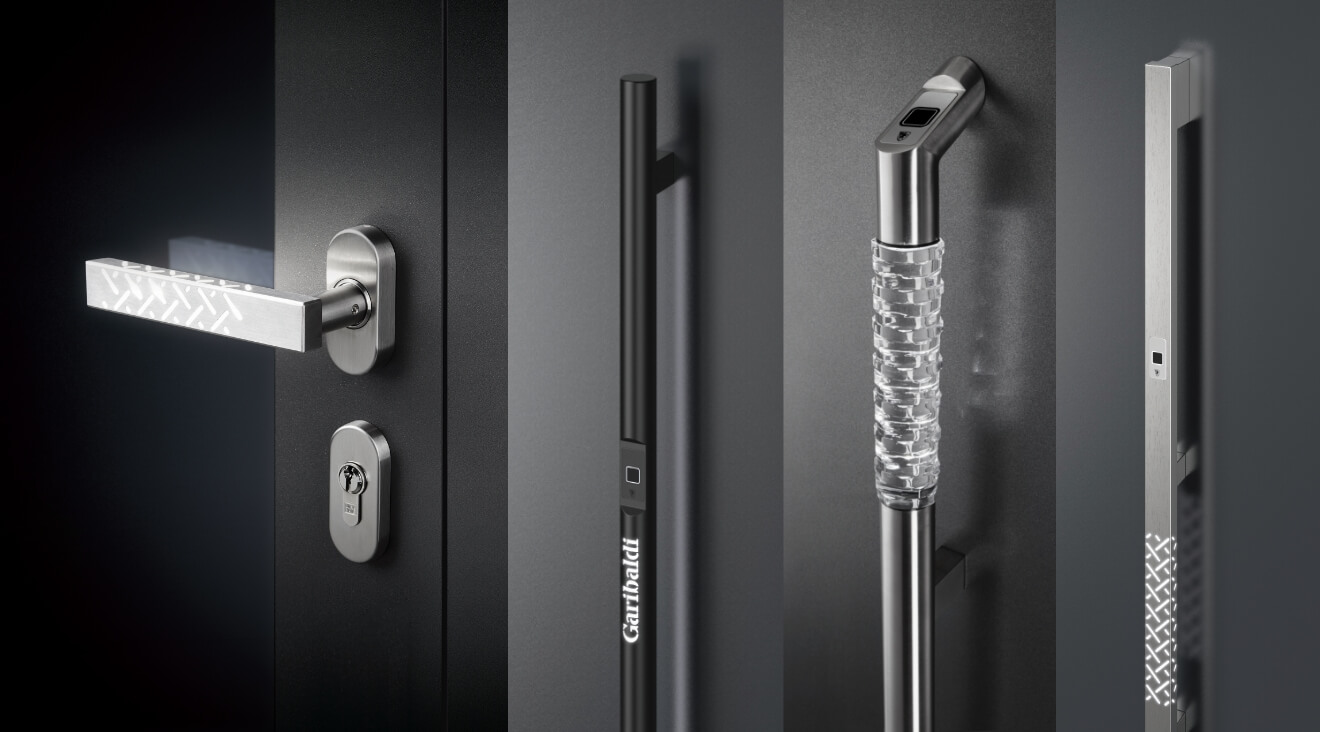 A large selection of models and accessories
Thanks to the large selection of entry door models, colours, glazings and accessories, you have a multitude of unique designs at your disposal.
In detail, this is expressed in the following points:
high burglary protection
high thermal insulation
integrated noise protection
high stability, weather resistance and durability
easy to maintain
Many colour options
retains its value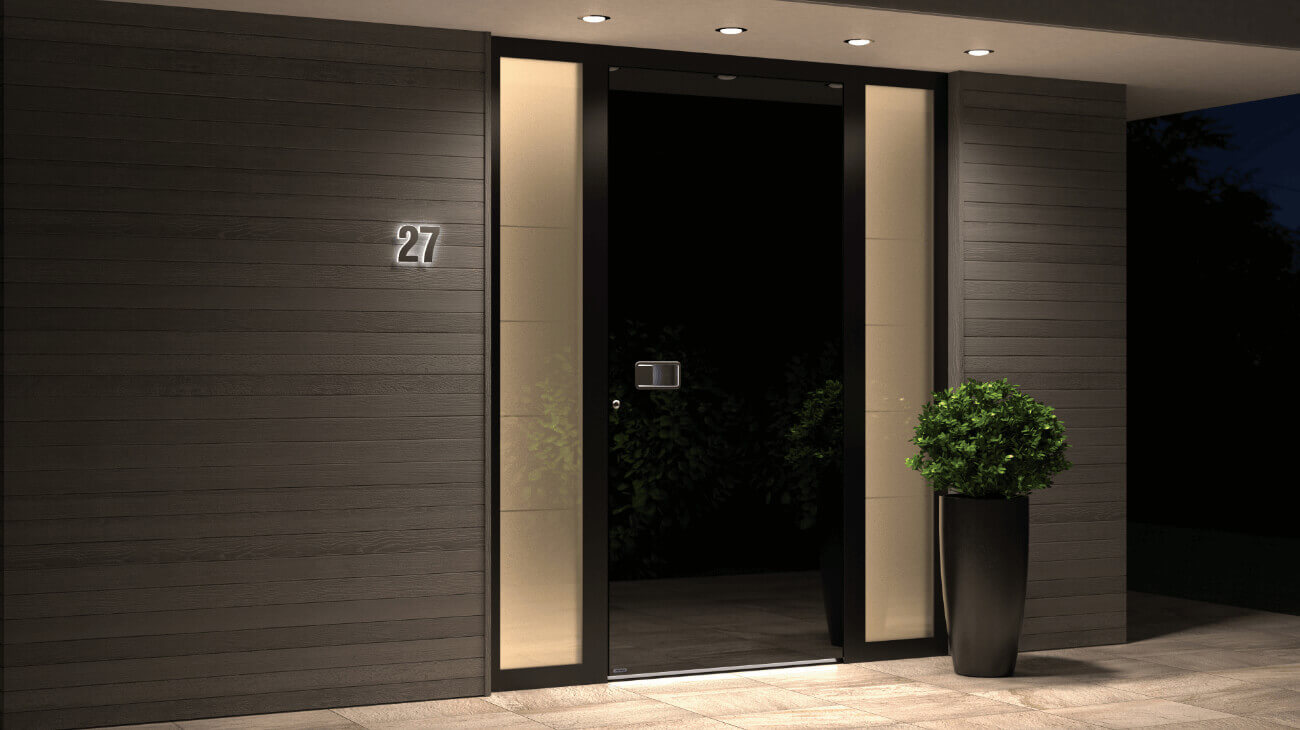 The most prestigious range of models
NEXT TO PERFECTION
Ultimum Pure OneTouch
The prestigious Ultimum Pure door is characterised by the purity of its surfaces, where all elements are immersed into a single plane, without unnecessary edges and frames. Pure are the entrances for the most modern homes and for lovers of timeless elegance. In combination with other noble materials, they become true design masterpieces.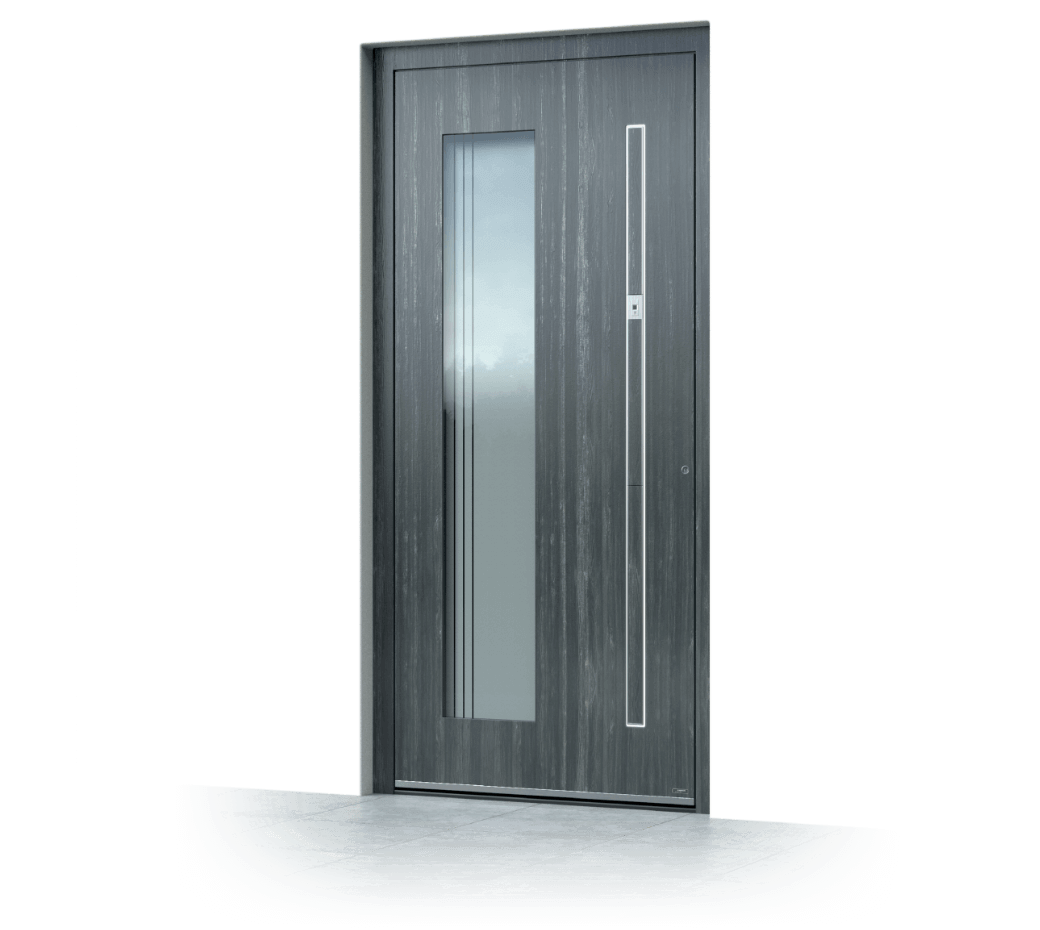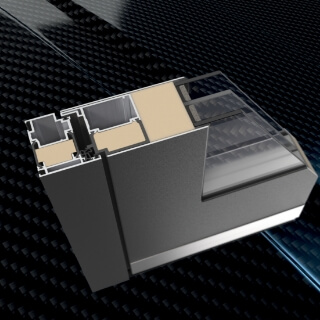 Surface
alignment
Clean lines with no exposed elements create a contemporary look that we cannot imagine a modern home without.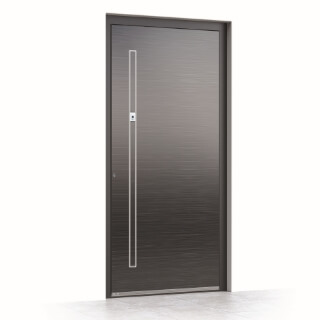 Timeless
elegance
The minimalist design ensures the eternal elegance of the door, which blends perfectly into the modern architecture of your home.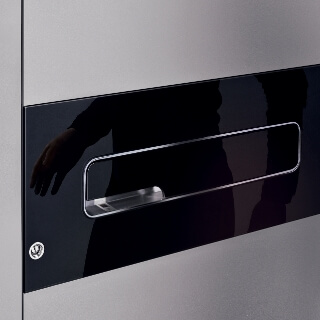 Various
combinations
Pure entrances can be combined with elegant cover glass door panel, wood or other materials to create a very individual and unique look.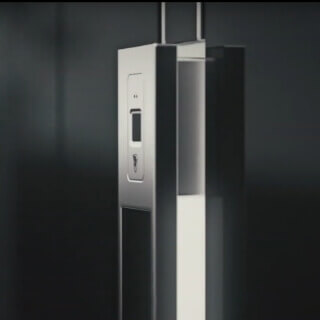 Pure
OneTouch
Pure OneTouch are perfectly complemented by the innovative OneTouch automatic immersed handle that conceals itself elegantly into the door leaf. Thanks to the special built-in lighting, the Pure hooks shine in all their beauty.
WONDERFUL 3D WORLD
Ultimum Multilevel
The Ultimum Multilevel front door is distinguished by its dynamic surfaces, which are only possible through masterful execution and state-of-the-art technology. Innovative 3D sand dunes and ocean waves create beautiful patterns, making everyone want to touch your front door and immerse themselves in the enchanting world of three-dimensionality.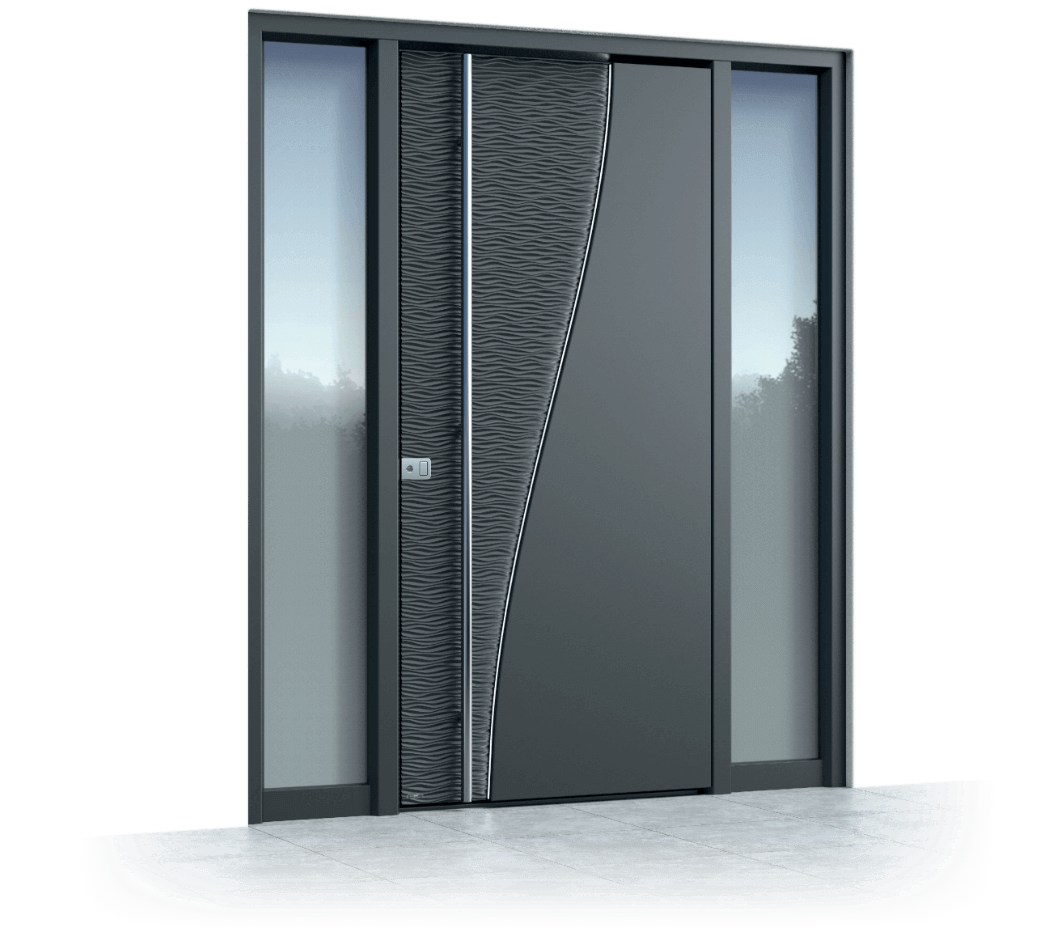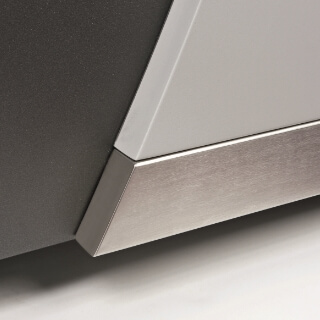 Dynamic
surfaces
The top-of-the-line Multilevel collection, with a variety of details it highlights on the door leaf, adds an aesthetic complement to your home.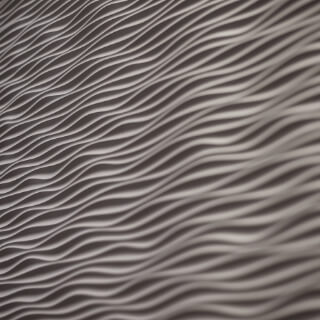 Sand
dunes
The unique sand dune pattern in this chemical element is crafted by our skilled masters and adds a strong aesthetic appeal to your front door.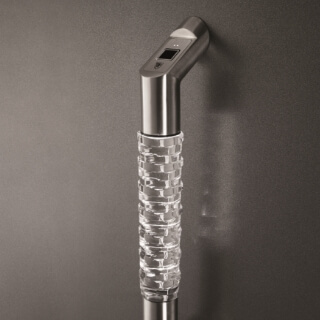 Unique
handles
On the Multilevel alu models, our unique handles come into their own as they further accentuate the already varied surface of the door.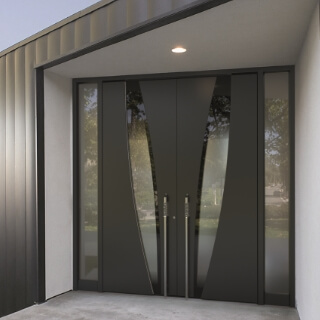 Audacious
elegance
Multilevel models are best suited to contemporary house architecture and have the greatest impact on a calm façade since they make the entrance to your home truly striking.
Choose from the most popular models
Discover the most beautiful, best-selling and award-winning models in more detail.
A wide range of accessories for alu models
Aluminium is a high-quality all-round material that allows for many design and colour combinations. We offer a rich selection of unique accessories that will add the finishing touches to your dream door and enhance your home. Discover which additional finishes and features you can add to your front door.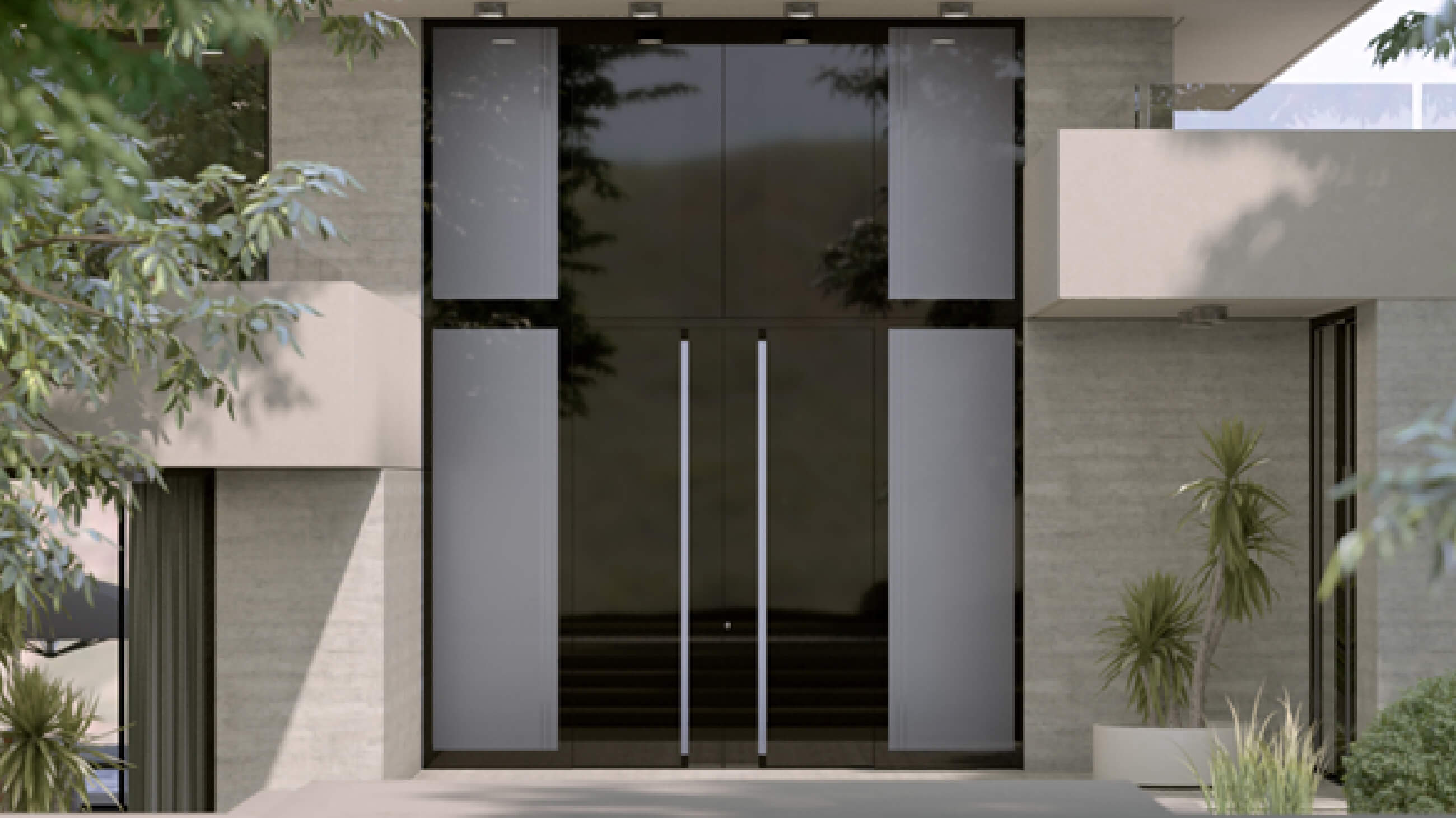 COVER GLASS
Glamorous cover glass panel in glossy or matte RAL colours and beautiful copper or striped patterns transforms your model into a modern minimalist excess.
GLAZING
Alu glazing models can be decoratively glazed with a variety of single or double glazing patterns, from satinato, parsol, etc. For added security, you can use triple or four-layer safety glazed side panels.
SIDE LIGHTING
Single or double lighting is a good solution to let more natural light into the house and give the impression of power.
TOP LIGHTING
Top lighting visually enlarges the entrance to your home, lets in more natural light, adds decorative value and creates an impression of grandeur.
BEST HANDLES
You can choose between handles of various length and shape, or opt for a hook with the OneTouch automatic retractable system, which goes particularly well with alu products.
ANY DIMENSIONS
Aluminium panel enables the production of alu models with above-average dimensions. The Grande design or the double-leaf front door create a monumental entrance to your home.
CONSTRUCTION
The strength of this natural metal gives the front door exceptional structural strength and durability.
LOCKING OPTIONS
You can choose classic locks or modern methods and locking systems, such as opening with a SECURO fingerprint standard locking scanner.
A WIDE RANGE OF COLOURS
With aluminium products, we can play with countless colour options, from using glossy or matte colours on the RAL scale to wood and concrete decors, to metallic and finely textured colours.
Aluminium models for the maximum security of your home
Modern technologies and high-quality materials used in the manufacture of our aluminium entrance enable maximum protection and the highest levels of security in terms of noise, burglary and fire protection. The material is an excellent choice for alu entry door security in a wide range of buildings. They are extremely strong, stable and offer many options for upgrading security devices. They can be upgraded with security fittings, security glass panel or a special cylinder.
#1

BURGLAR-RESISTANT STANDARDS

To make your alu entrance door design even more secure, you can opt for an additional upgrade according to the security requirements of class RC2 or RC3. For an additional charge, you can also equip the front door with a security cylinder with a tamper-proof security card, additional HD security pins on the side of the hinges or security glass panel.

#2

SUPERIOR ARMO LOCKS

Our ARMO locks are quality multi-point locks with solid security pins that lock the door at several points. They contain a high-quality security cylinder insert that protects the door from being forced open using multiple fixed and active pins. They are also equipped with a security escutcheon.

#3

SECURO FINGERPRINT SCANNER

The SECURO fingerprint scanner is an extremely secure with locking and convenient lock because you do not have to worry about where you keep your key. It is therefore a practical solution for families with children and non-transferable access. It also offers excellent protection against copying.

#4

THICKNESS OF THE ALUMINIUM DOOR PROFILE

The heart of the most secure door lies in the thickness and quality of the door profile. Aluminium profiles are extremely robust, durable and stable, ensuring exceptional security.

#5

SAFETY GLASS

You have the choice between tempered and laminated security glass. Tempered glass is heat-treated and has four to five times the impact resistance of the normal one. When glass breaks, the sharp particles do not break off, but it takes on the appearance of a spider web. The laminated material stays in place and the particles do not explode.
Tips for choosing the best aluminium front entrance door
Advice and help when deciding on an aluminium door

We ensure you that you carefully plan your dream front door with us throughout the whole selection and buying process. During an individual consultation in one of our showrooms, you will learn about all the advantages of aluminium standard front doors, regardless of whether you want to make your home more modern or go for a more classic traditional style. In addition to the consultation, you can see the most beautiful range of these metal door models in person and convince yourself of the quality, value and top workmanship. There are many options we can discuss: aluminium french doors with or without aluminium windows, composite doors with windows, aluminium sliding doors with windows, windows BI-folding, double doors, pivot doors, french doors, patio doors with or without windows, Bifold doors, UPVC, PVCu and other high-end alu or timber doors sets.
Ask for free quote with no-obligation from a huge range of residential doors, glazed doors and other front entrance products through our Configurator.

Continue to the Configurator

Dimensions and colours of aluminium entrance

This chemical element allows for an infinite choice of standard colour shades, depending on the style and overall appearance of your house. You can choose your door in a one or two colour combination.

You can liven up the door using different colour combinations, the choice is yours:

matte or glossy shades according to the RAL scale,
textured and metallic shades,
wood and decorative decors.

These metal models are manufactured in various dimensions. Even oversized or double-leaf product present no obstacle. The special structural properties of the material allow us to produce exceptional range of models of larger dimensions, up to 3 metres high and up to 1.3 metres wide.

Maintenance and care of aluminium hand-crafted entry doors

Alu models are undemanding and easy to maintain. Cleaning is quick and very simple, but do not forget the important parts like the hinges and the lock. When it comes to keeping your aluminium front door clean, you should consider the following points:

cleaning powder-coated surfaces,
cleaning glass and windows surfaces,
cleaning stainless steel, such as hooks, bars and applications,
cleaning and lubricating seals, locks and cylinders.


We recommend an aluminium entrance door with left sliding, right sliding or without siding to be cleaned thoroughly at least once a year. For cleaning, use non-aggressive agents that do not damage the material, or use a range of cleaning and care products. Don't forget about cleaning yiur windows, Bifold, internal or garage doors, too.

Care of powder-coated aluminium surfaces

Clean the frame and leaf at least once a year, but if the environmental impact is greater, cleaning several times a year is recommended. Use cold water with a little soap or mild detergent and wash by hand. Clean the door with a soft cloth or sponge. Cleaning is not suitable in direct sunlight or if the surface temperature is above 25 degrees Celsius. Do not use harsh, abrasive, acidic or strongly alkaline cleaners and scrubbers that will damage the surfaces. Do not use cleaning agents of unknown composition. Do not polish the surface of matte and textured lacquers.
The double-sided cover and insulating glass panel also contribute to excellent thermal insulation.

Measuring aluminium entrance doors

Measuring aluminium entrance or internal doors can be a challenging task that is difficult to do alone, so it is best left to experienced professionals. If you are building from scratch, the dimensions of aluminium products are easier to measure because they are already included in the architectural or construction documents.
If you are only making changes to your house, the approximate measurements of the current door or wall opening are sufficient to provide a meaningful estimate, and later you can leave the exact measurements to Pirnar's experienced measuring professionals. Superior designs made bespoke to all requirements

Delivery and installation of aluminium doors

The quality of the installation of aluminium front doors on-site plays a decisive role in their functionality and longevity. Aluminium already has an extremely long lifespan, but if you want an aluminium entrance to serve you for decades, leave the installation to experienced professionals.

The professional installation of aluminium exterior doors is carried out in six steps:

preparing and measuring the wall opening before external door installation with slim frames,
inserting the door frame into the wall opening,
securing the front door frame,
anchoring the frame in the wall opening,
sealing the door construction and
ompletion of the masonry work after the installation of the alu external door.

Properly and professionally installed front entrances also require regular and appropriate low maintenance to ensure impeccable functionality and long service life.